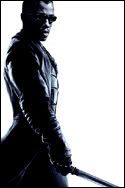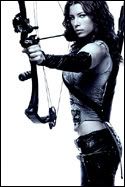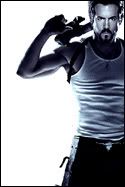 So tonight I watched Blade:Trinity. I thought it was badass – mainly because I love vampire movies and I loooove Ryan Reynolds… although it would've been nice to see him play a more serious character instead of taking on the role of comic relief all the time. Interesting choice in casting for the role of Drake/Dracula – it was the guy who plays John Doe on that tv show. No matter – he was still totally cool although his part should've been bigger since he was king of the damned and the main plot for the entire movie. It was cool to give him a makeover though – no pathetic looking Transylvanian count here. Jessica Biel was ok as Abigail but I want to have sex with whoever designed her wardrobe. And while we're at it, I want to have sex with whoever designed the weapons as well.
Parker Posey looked utterly delicious as vampire bitch Danica Talos. She has this kind of sickly look to her skin – it almost looks so white at times that it's slightly blue. And she looked so damn cool with those fangs on; she should just get them surgically attached to her.
+ + + + + +
On a completely different note, I sat outside with my cousin Brett while he was mixing some cement to work on the paving in the backyard at 10.30 this evening.
I think he liked me asking silly questions about what he was doing and how he learned how do to it. I think it made him feel smart – that there are some things that he understands and I don't. I amused him by asking him things like how they actually get a new telephone socket connected and what he was planning to change in the back patio.
Brett and I don't talk much. We're both so loud and stubborn that we end up getting annoyed with each other. But tonight was a nice time for both of us to have a conversation on Brett's terms… in his territory. I'll let him think he's smart this one time and then I'll go back to giving him looks of disdain and rolling my eyes at him tomorrow.